Works in museums and collections
Cristina Fonollosa's work is in the collections of the International Museum of Naïve Art in Jaén (Spain); the Naïf Art Museum "Max Fourny" in Paris; the International Museum of Naïve Art in Luzzara (Italy); the Museum of Naïve Art in Bages (France); the Naïf Art Museum of Guimaraes (Portugal); the private collection of Albert and Ana Laporte and their Naif Art Museum M.A.N (Béraut, France); Gerald Mouial's private collection of naive paintings, in the Caribbean island of Saint-Martin and in France; and in the Díago Gallery in Havana, Cuba.
1980-1990
Her first exhibition in Populart (Barcelona) gives way to other exhibitions in Catalan galleries and in the rest of Spain. The exhibitions in Cap-i-Cua (Canet de Mar), Latina (Palma de Mallorca), La Amistat (Cadaqués), Sala Vayreda (Olot), Galeria Carles Vallès (Figueres), Palau de Caramany (Girona), Círculo Catalan (Madrid) and the Roglán Gallery (Barcelona).

1991-2000
Cristina continues to exhibit at Iberian centers: Galeria Casas (Barcelona), Els Quatre Gats (Barcelona), Dacal (Madrid), La Madriguera (Madrid), Museu de la Marina (Vilassar de Mar), Magerit (Madrid), Museo Internacional de Arte de Jaén, Ateneo de Almería, Museu Naif del Far d'Empordà (Figueres, Spain), and participates in solo exhibitions in Cuba and the US: Galería San José (Holguín, Cuba) and Montserrat Gallery (NY).

2001-2010
The Catalan artist settles in Cuba, and expands her international activity: Espai Capgrós (Mataró, Spain), Laura Márquez (Madrid), El Cau de la Carreta (Sitges, Spain), De Arte (Santander, Spain), Museo de Arte Naif de Béraut (France), Gran Teatro de La Habana, Cienfuegos Art Center, Holguín Press House, Alejandro de Humboldt Gallery (Havana), Gallerie Amahoro (Saint-Martin, French Caribbean), and Darby Louise Gallery (Chicago).

2010-nowadays
Cristina Fonollosa maintains her activity from Holguín, and exhibits individually at the Naif Art Museum in Béraut (France); at the Galeria Barcelona (Barcelona); at the Malaga Museum (Spain); at the Ses Cucons Gallery (Ibiza, Spain); and at the Eddy Suñol Theater (Holguín). In 2021 the Canet de Mar City Council managed a retrospective.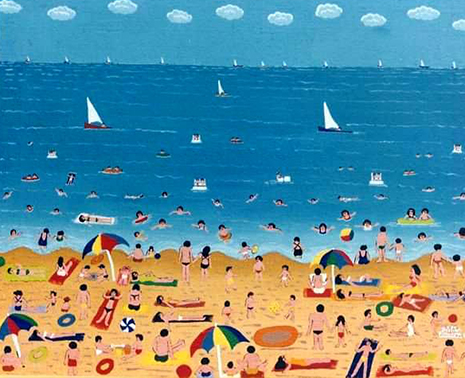 Since 1981 Cristina Fonollosa has participated in artistic contests of all kinds:
Taller Fort (Cadaqués, Spain, 1985)
Homage to Salvador Espriu (FAD Barcelona, 1986)
Atélier Ives Le Guellec (Auch, France, 1988)
Elizalde House (Barcelona, 1988)
Donart (Barcelona, 1988)
Naif Spanish Art (Mahón, Spain, 1989)
Seatle-Barcelona (Seatle, USA, 1990)
Naïf Spagnola Painting (Luzzara Museum, Italy, 1991)
Gallerie Kasper (Morges, Switzerland, 1991)
Homage to Vallejo-Nájera (Madrid, 1991)
UNICEF Greetings (Musée Georges Pompidou, Paris, 1992)
Athenaeum of Seville (1992)
Casino de Estoril (Portugal, 1992)
Royal Academy of Arts Summer Exhibition (London, 1994)
Urban art, rural art (Women of Horta, Barcelona, 1996)
Street fair (Holguín, 1997)
Pere Mitjans Foundation (Barcelona, 1997)
National Engraving Event (Havana, 2001)
Collective of Cuban Naive Painters (Philadelphia, USA, 2002)
National Salon of Cuban Naive Art (Holguín, 2003)
Drawing Fair (Galeria Roglán, Barcelona, 2005)
Homage to Picasso (Sant Pol Gallery, Barcelona, 2006)
Regino Boti Territorial Hall (Guantánamo, Cuba, 2006)
Naif National Art Salon (Alba Cultural House, Havana, 2010)
International Festival of Primitive Painting (Katowice, Poland, 2011)
Sample of "Papelotes", traditional kites, (UNEAC, Holguín, 2012)
15 Catalan women (Sant Cugat del Vallès, Barcelona, 2012)
Ses Cucons Gallery (Ibiza, 2017)
Naif Painting Museum of Sao Paulo (Brazil, 2019)
Retrospective Cristina Fonollosa (Canet de Mar, Barcelona, 2021)